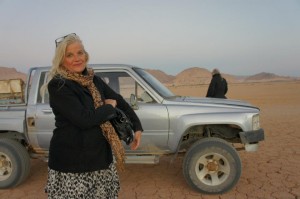 Artist Joanne Posluszny-Hoffsten was born in Buffalo, New York. She has exhibited in the USA, Scandinavia, Europe and South Africa and has recently received the City of Linköping, Sweden, Cultural Award for 2011. She is presently exhibiting in the Passagen Arthall exhibit "Artist in Residence" with her art installation"Destination Majorca, Frederic Chopin, George Sand,"in Linköping, Sweden.
Posluszny-Hoffsten's art often expresses extreme emotions such as in the series "The Silence of Abuse." In this work the artist tells the stories of people who are suffering through physical or mental abuse and have lost their will to react and take charge of their lives. The artist has also created romantic public art works such as "The Golden Love Pavilion" in the central park in Linköping, Sweden known as "Trädgårdsförening."
Posluszny-Hoffsten received her Masters degree in Fine Arts, from the State Univesity of New York where she studied painting and a Bachelors degree in English Literature from Boston College. She has also studied film at the State University of New York and at Göteborg Academy, Sweden. In November 2011, she and her husband, Lars Hoffsten, were the artists chosen to represent Sweden in a series of exhibits of Europian Union countries at the Dom Polonia Gallery in Krakow, Poland
Posluszny-Hoffsten works in mixed-media using different types of material including skateboards, cages and suitcases.She received a grant from the Polish Ministry of Culture to study with Wladislav Hasior in Zakopane and afterwards to study graphics at the Warsaw Art Academy (ASP) where she met her husband. She now lives in Linköping, Sweden where she has her studio in the Skylten building, which is the oldest factory building in the city of Linköping, Sweden's fourth largest city, located south of Stockholm. Polish National television has made a documentary about the life and art of Posluszny-Hoffsten.
Joanne Posluszny-Hoffsten has also created documentary films about the writer Torgny Lindgren, the musician Gunnar Hoffsten, artist Leif Elggren and the Fish Auction in Göteborg, Sweden.
Posluszny-Hoffsten has also been a recipient of the Konstnärsnämnden grant, the National Swedish stipend for Visual artists. She is one of the directors and a founding member of of Jr. Konsthall Gallery, Linköping, Sweden.