"The Golden Love Pavilion" (Lusthuset)
Located in Linköping, Sweden's Trädgårdsföreningen, (the Central Park), this public artwork was
designed by Joanne Posluszny-Hoffsten in 2010. The artist was inspired by a pavilion in Kalmar, Sweden,
built by King Johan III for his wife Katherine Jagiellonian. It is also a popular meeting place for tourists
and residents of Linköping.
With 23 photos of love and four poems on the inside, it is a place for couples to meet and marry. The
pavilion is especially popular during student ball time in Linköping, when students wearing gowns and
tuxedoes, pose there. The golden duck at the top, a symbol of love and luck, looks towards Buffalo, New
York, Posluszny-Hoffsten's hometown. Located near the hospital, the pavilion is also a place for
meditation and prayer for patients, visitors and staff.
The photo below is taken at wintertime, when the changing colours of the pavilion reflect onto the sur-
rounding snow. The pavilion is 8.5 meters high, made of metal and wood and embellished with gold leaf.
"The Golden Love Pavilion " at night, Trädgårdsföreningen, Linköping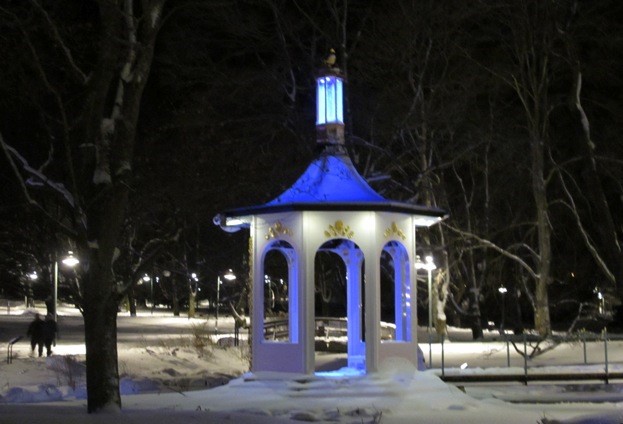 "The Golden Love Pavilion" detail, inside ceiling view